Everyone wants to be heard, understood, loved, and cared for, and we can struggle when we do not get these crucial needs met. In therapy, we can work to begin to understand your needs, your narratives about yourself, and the thought patterns that contribute to your daily life. From the day to day obstacles, facing our anxieties, having difficult conversations, being introspective and accepting our own emotions, it can feel like a full time job all in itself! Our work together is about support, guidance, reassurance with the most important relationship you will have, YOU!
When we approach this work together as a team, it can provide the strength and encouragement to overcome obstacles and help you grow and change. Therapy can be an enjoyable experience! My focus in our work together is building a trusting relationship and ensuring that your therapeutic experience is one of safety, learning, laughter, and unconditional positive regard.
I work primarily with clients working through addictions, identity crises, self-esteem/confidence issues, emotion management and past traumas in addition to working with anxiety and depression. I work with people from a variety of backgrounds, ethnicities and identities and have a particular expertise in working with people of color and the LGBTQIA community. I prioritize creating a respectful and non-judgemental environment.
In our therapeutic journey, we will start by building a trusting relationship then discussing relevant themes and processes to better understand your story and emotions. In our work together, we will discuss the past and the present while also developing the future you would like to walk towards. I combine grounding techniques and mindfulness with empathy, positivity, authenticity, and humor. My goal is to help you process your experiences, encourage self-acceptance and growth, and set realistic expectations for yourself and others. Each session is unique according to each person's individual needs.
My Services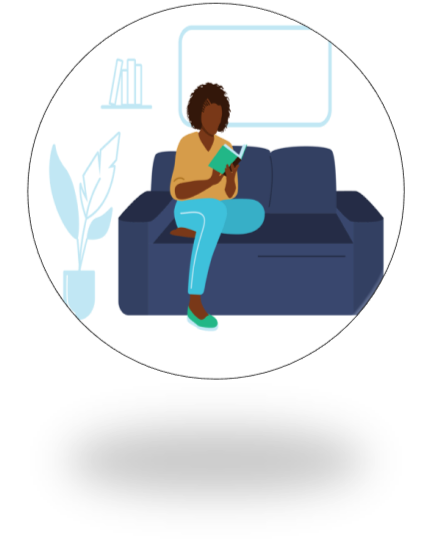 My heritage and culture are a large part of my identity, I am Afro-Caribbean (parents migrated to America from Trinidad and Tobago in the '80's). I am a charismatic, uplifting and creative person. I love music and nature, the combination itself has been a form of therapy for me in the past. Being raised in a traditional Caribbean environment, it has taught me how support, love, guidance and reassurance can impact one's story, emotions, and my values as a professional and overall as a person.  -I am from Prince George's County, Maryland, the richest black county in America. I'm proud of where I come from because it shows black excellence, success and growth. I love the sustainability of the community, being able to see someone who looks like you, getting an education, having high expectations and standards of themselves helped me along my journey.I graduated with my Master's degree in Mental Health Counseling from Bowie State University with a focus on destigmatizing counseling for the black/brown and LGBTQIA communities. I graduated from Stevenson University with a bachelor's degree in Human Services with a concentration in Addictions Counseling.