Seeking therapy should not be an afterthought nor should getting used to living in dysfunction or continuing the cycle of generational pain or trauma. The impact of pain and or generational trauma has kept many of us from living the best versions of ourselves. Either we've repeated the cycle or carried the burden of breaking the cycle.  I believe that Mental Wellness is the freedom to live life each day healed! You have the right to be unapologetically you!
Regardless of the reason that brought you here, I think we can all agree that life is hard, with so many intricate layers which can often leave us feeling disconnected from ourselves and or the people we love. Or the opposite; feeling stuck in a cycle of patterns that perpetuate automatic negative or irrational thoughts that control your emotions.
About me: I am a Licensed Mental  Health Counselor and a WA Approved Supervisor. I graduated in 2010 from Arkansas State University with an Education Specialist Degree in Mental Health Counseling. I have had the pleasure of providing culturally sensitive treatment to all humans of any shape, size, or color for the past 10 years.
Click Here to Get Started!
I believe communication and the strength of our therapeutic relationship are key to effective treatment. As a psychotherapist, I am very intentional with my approach towards the process of your wellness and I begin each journey with purpose. I ask – what brought you in and why now? Where do you see yourself at the end of this and what are you willing to change to get there? But that's just the beginning! As a psychotherapist, I strive to create a non-judgmental space where an individual, couple or family can feel safe in unveiling pain and start the process of healing. I want to give you the skills and healthy coping mechanisms to help you take control of the things that brought you here.
My Services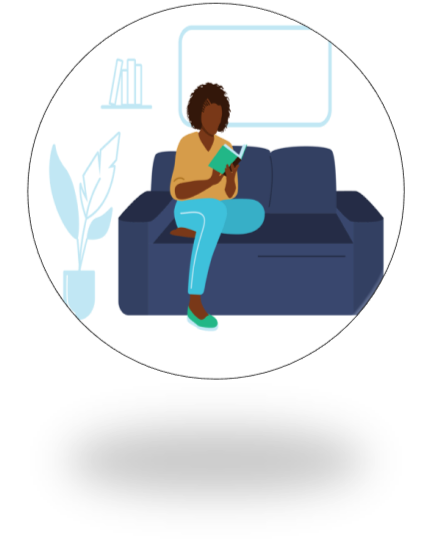 Does our pain have purpose? I am the beautiful byproduct of generational pain and abuse. I grew up having both parents in my life, but I was raised in a single parent home. I have four siblings but I am my parents' only child. I experienced the pain, struggles and joy of having two families; which ultimately impacted the way I saw myself and how I allowed myself to be seen and treated by others.
Being raised in North Memphis I was surrounded by poverty, gang violence, drugs and mental illness which no one identified. My environment didn't yield many notable professions. My options were teen mom, drug addicted, or death. At the very least of disorders I had no knowledge of what depression or anxiety was, all I knew was that my mental spaces contained darkness. Going to college was an escape into a world of unknown possibilities, thankfully. I decided I wanted to be different but I had no foundational knowledge on how to break the cycle.
Obviously, there is more to my story, but today it's about you! What stories have you allowed to overshadow your purpose and who you are today? There is one place where my personal life and professional life overlap and that's being among the mass to destigmatize mental health, especially among people of color. As long as you're ready for change and willing to do the work, evolution of self is inevitable.
Competencies & Relevant Work
CREDENTIALS
Licensed Mental Health Counselor #LH60953724
WA State Approved Clinical Supervisor
Child Mental Health Specialist
Mental Health Professional
Education Specialist Degree (Ed.S) in Mental Health Counseling Arkansas State University 2010