We believe that when families thrive, individuals thrive too. With training rooted in systemic family approaches, working with clients in the context of their family, relationships and community is our bread and butter.
Systemic family theory examines how families function together, how they be, what they do, what they say and how they say it. We look for patterns of engagement, interaction, and behavior. How do families respond to anger, success, pain, joy, and how do they cope with racism, grief or the everyday hardships of human nature? We aim to understand how each family member perpetuates the experiences we see. We explore what small changes are needed to move towards healthier boundaries and more joyful interactions.
Family Bonding
Enhanced Communication Skills
Exploring Multigenerational Trauma
Building Resilience
Healing Together, Growing Together
We understand the complexities of family dynamics. We also know how difficult is can be to change the negative interaction patterns that develop over time. How do we ensure all family members are seen and heard? Understanding how each family member is coping with all life's ups and downs is becomes critical for the entire family. We help families attune to these needs and reimagine what it looks like to thrive together.
Conflict: arguing, fighting, discord
Feeling misunderstood, disconnected or frequently upset
Transition: blending families, relocation, divorce, unemployment, global pandemic, birth/death, new school/work, gender identity, etc.
Trauma: multigenerational, racism, microaggressions, workplace trauma, family assault, car accidents, arrest/police interactions, etc.
Behavioral: withdrawal, aggression, acting out, etc.
Our Family Systems Approach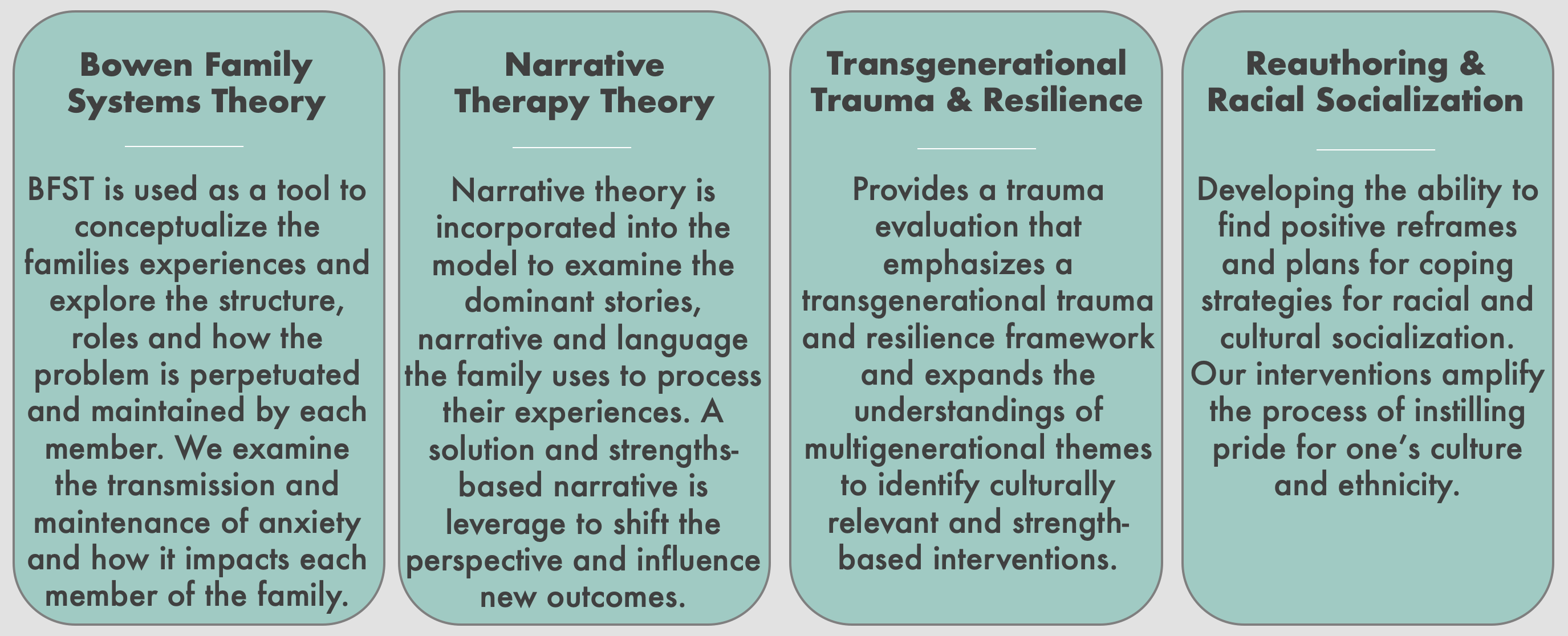 Other systemic therapy approached are integrated throughout the treatment process – Solution Focused Brief Therapy, Emotionally-Focused Therapy, Structural Family Therapy and more. To learn more reach out to our team.