At Dream Life Out Loud, we are committed to supporting our clients in developing safe spaces for healing and empowerment. We understand the complexity of human attachment, connection, trauma and the beautiful range of emotionality of the human spirit. We treasure the sacred moments of growth and change and bring honor and dignity to our work.
Tabitha M. Kuria, LMHC (she/her) is a licensed mental health counselor and Clinical Manager at Dream Life Out Loud, PLLC. Tabitha is funny, caring, humble, and open-minded with a little southern charm. She believes that everyone should have the freedom to "BE YOU" and unapologetically. As a therapist she strives to support and encourage clients to be a better version of themselves and allow them space to explore in order to do so. For over 10 years, Tabitha has provided culturally sensitive treatment to all humans of any shape, size, or color in diverse mental health care settings, from community mental health to private practice.
Rachel (Rae) Weiss (she/her), serves as Client Care Coordinator. She is a senior at the University of San Diego, majoring in Psychology with a minor in Communications. She is also a SoCal native and identifies as both Jewish and Asian American with a big passion for social activism and community healing having dedicated a lot of time towards political campaigns, facilitated parental visitation sites, peer tutoring, and teaching sex education. She highly values teamwork, progress, and connection and can't wait to support you in beginning your wellness journey with Dream Life Out Loud!
Moriah Bentley, LMFTA (she/her) is a licensed marriage and family therapist associate, practicing therapy since 2018. She has a background in working with both former and current athletes, clients from under privileged positions, and people dealing with eating disorders or behaviors. She proud to be a part of the LGBTQ+ community and enjoys working with clients undergoing identity transitions.
After a life changing experience with therapy and witnessing the power of therapy for her mother, she decided she wanted to offer similar life changing spaces for people. She truly loves the work of therapy and see that represented strongly in her work.
Sarah Orihu, MFT Intern (she/her), serves as a Marriage and Family Clinical Intern. She is currently studying to become a Couples & Family Therapist at Seattle University. She holds a Bachelor of Arts Degree in Communications from Howard University. After years of doing community outreach work and mentoring youth in her free time, she decided to pursue her passion for mental wellness and healing through counseling. Upon completing her master's degree, she desires to engage with predominantly clients of color, specifically within the Black/African American community. Along with seeing clients, she also assists with client scheduling, new client intakes, monthly newsletters, and other projects.
Danielle Jenkins Henry, LMFTA (she/her) is the founder of Dream Life Out Loud, PLLC. She serves as a Marriage and Family Therapist Associate and Clinical Site Supervisor, Empowerment Coach, Wellness and Racial Equity Consultant. As a former 6-year marketing executive at Microsoft, she draws from personal experiences of race discrimination and retaliation in tech to motivate women and people of color to release themselves from the victimhood of their lives.
With a blend of experiences in corporate spaces, Danielle is uniquely positioned to support organizations to create space for the development of programs that address systemic racism and negative outcomes facing diverse workforces.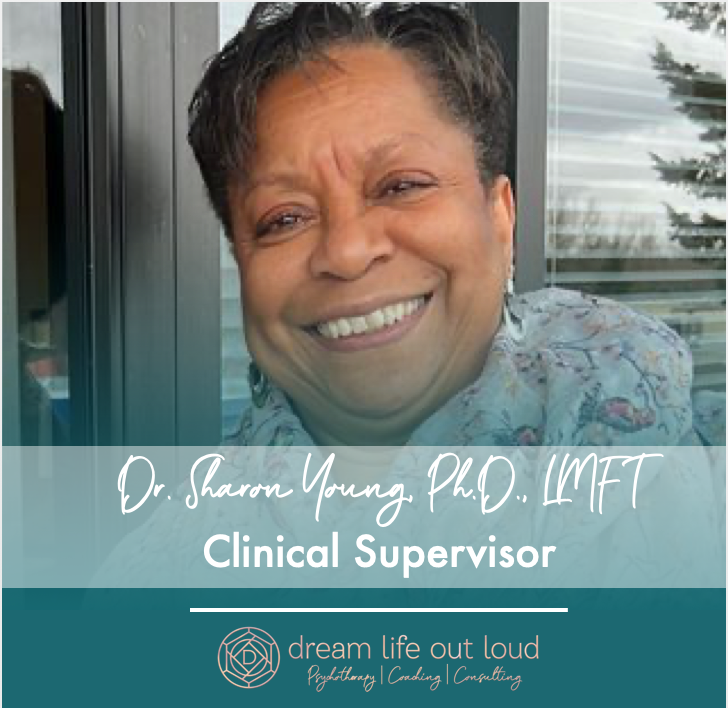 Dr. Sharon Young, Ph.D., LMFT (she/her) is a Licensed Marriage & Family Therapist and American Association for Marriage and Family Therapy approved supervisor. Dr. Young provides clinical supervision with services designed to provide resources for psychotherapy development. Master Therapist also provides direction and mentoring in establishing or improving an existing clinical private practice. Infinite Possibilities is a group private practice under the leadership of Dr. Young,  which was established in 2005 and has grown in size to as many as seven therapist under her direction. Being in business for 14 years has allowed Dr. Young  to experience any and all of the obstacles and challenges that come with being able to have a successful private practice.